Weinheim as a Business Location
Dynamic medium-sized town with over 45,000 inhabitants
Weinheim lies in an economically strong and innovative center of Europe. Thanks to its excellent geographical location, Weinheim offers quick access to several international economic regions.
Weinheim owes this access to the excellent connections provided by the European high-speed railway network, its favorable location within the road network in the transport and logistics sector and its fast accessibility to international air traffic. Globally operating companies have recognized these locational advantages and settled in Weinheim.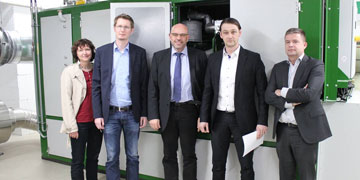 Weinheim business
Business in Weinheim benefits from its central location in the immediate vicinity of the service, industrial and academic centers in Mannheim, Ludwigshafen and Heidelberg.
The Rhine-Neckar metropolitan region, with over 2.3 people – the seventh largest metropolitan area in Germany – is a region of European importance. The companies represented here from the sectors of IT, nanotechnology, cancer research, energy supply, automotive technology, biotechnology and genetic engineering are already leading the way in Europe.
In conjunction with attractive residential surroundings, this makes Weinheim an attractive location – and not just in the Rhine-Neckar region.