Strandbad Waidsee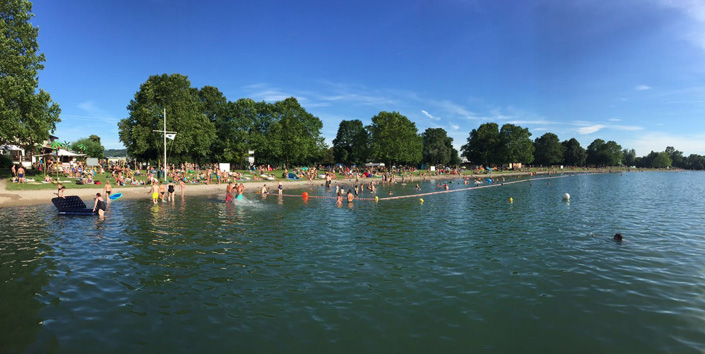 The Waidsee Lido is a popular destination for locals and foreigners every summer. The spacious leisure facility offers plenty of sunbathing areas with shady trees, sailing, surfing, fishing, diving and nudism in the neighbouring leisure pool "miramar". The beach volleyball court, children's playground, garden chess, table tennis and a kiosk of the adjacent restaurant "Delano" round off the offer.
 
This groundwater lake was created between 1966 and 1970 with the construction of the new motorway between Darmstadt and Heidelberg. 2 million cubic metres of fill material for the route and dams were extracted, creating a lake of 24 hectares of water surface, with an average sea depth of 15 metres, a maximum sea depth of around 30 metres, a maximum east-west extension of 700 metres and a maximum north-south extension of around 500 metres.

Address Lido:
Hammerweg 61
69469 Weinheim
tel.: 06201 / 5 32 70
e-mail
Important note:
Due to the corona pandemic, the opening date of the lido will be postponed indefinitely.
 
Box office closing time and admission:
1 hour before closing time, for divers 2 hours before closing time.
The opening time can be extended and shortened due to the weather. A reduction can take place in particular if the air temperature (daily maximum value) does not exceed 16°C, it rains in the midday/afternoon hours predominantly. The lido is then already closed at 16:00 o'clock.