Segway Tours Weinheim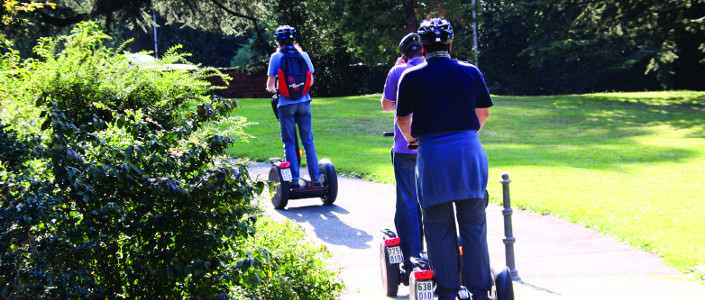 Conquer Weinheim by Segway and experience the town of two castles from a new perspective, stress-free and environmentally friendly.

There are two tours:
the "Windeck-Tour" and the "Hirschkopf-Tour".
On Saturdays you drive around the old town and on Sundays to the ruins of Windeck Castle to the Hirschkopf.

*Guided Tours 2019:
02./03.02.2019,  6./17.02.2019, 02./03.03.2019, 16./17.03.2019,  30./31.03.2019,
13./14.04.2019, 27./28.04.2019, 11./12.05.2019, 25./26.05.2019, 08./09.06.2019,
22./23.06.2019, 06./07.07.2019, 20./21.07.2019, 03./04.08.2019, 17./18.08.2019,
31.08./01.09.2019, 14./15.09.2019, 28./29.09.2019, 12./13.10.2019, 26./27.10.2019,
09./10.11.2019, 23./24.11.2019
each time at 9:30 am and 3:30 pm

Duration: Approx. 2 hours (incl. instruction)
Costs: from € 49 per person
Please note that registration at the Tourist Information is required.
 
*Please note that the guided tours on public dates are only offered in German. You are welcome to book a private guided tour in English, for example, for a desired date.
Please contact the Tourist Information:
Phone: 06201 / 82 - 610, tourismus@weinheim.de
 
Groups all year round by appointment, group prices and special dates on request.
Minimum number of participants 2 persons.
If you like, you are welcome to bring your bicycle helmet.
Moped or car driving licence required!
You can book this tour in German and English.