Bicycle rental system "VRNnextbike"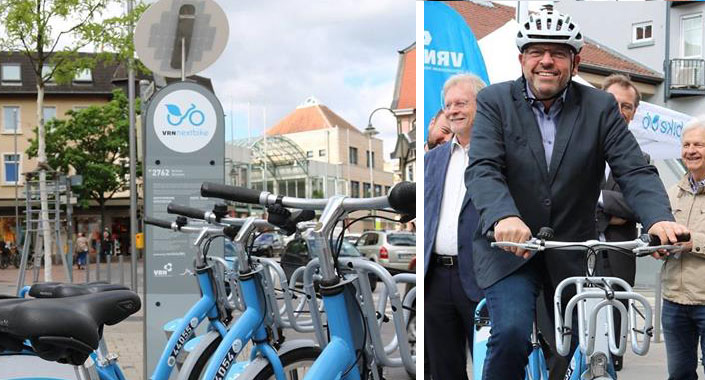 Bike rental stations from VRNnextbike
Since 26 April 2018 Weinheim has also been part of the VRNnextbike family.
Around 50 bikes can now be hired at 9 stations (5.1 MB) (5. 1 MB).

You can rent a bike at the following stations:
Main Station / Central bus station (Bahnhof / ZOB)
Guildhall (Stadthalle)
Dürreplatz
Castle Palace Park (Schlosspark)
Station Blumenstraße
Station Händelstraße
Station Stahlbad
Hospital (Krankenhaus / Behördenzentrum)
Wormser Straße
Costs
VRNnextbike customers continue to pay 1. 00 Euro per half hour or part thereof. The maximum amount within 24 hours is 9.00 Euros.
The RadCard rate includes a basic fee of 48 euros per year, but the first 30 minutes are free for each journey, after that every additional half hour costs 1 Euro, maximum 9. 00 Euro per 24 hours.
 
VRN half-yearly / annual ticket holders and CarSharing customers of stadtmobil Rhein-Neckar can use the rental bicycles at a special rate. The VRN RadCard costs 39 Euro per year, whereby the first 30 minutes are free for each journey. Each additional half hour costs the same 0. 50 Euro, the maximum amount per 24 hours is 5.00 Euro.

(Version April 2018)
Further information and registration at www.vrnnextbike.de
Register once and be mobile in 150 nextbike cities worldwide.
With one account you can rent up to four bikes at the same time. Sign up now!
For Groups:
It is possible to reserve bicycles (4 - 10 pieces) for groups at the VRN in advance.